Loft conversions are a common thing for most of the UK homes. If you're thinking of making proper use of your attic space or if you need additional headroom and floor space in your home, then a loft conversion would be your go-to solution. Not forgetting the fact that loft conversions are a great way of adding value to your property. Luckily for you, we shall discuss several types of loft conversions you can choose from.
We shall also look at several factors and things essential in determining the type of loft conversion suitable for your home. Among these, the type of roof on your property is one of the most important things. We'll also look at the pros and cons of some of these loft conversion options.
The most important thing is first determining whether your loft space is suitable for conversion. For a loft extension, the most important thing is to make use of that underutilised area in your house. Although it is very rare to get a loft space that cannot be converted, there are a few adjustments that can be done to accommodate a conversion.
We always have the best solutions for London loft conversions, ensuring that our customer's needs are met. If you find it difficult to tell whether your property is fit for conversion, our loft conversion specialists are always ready to help and find you a viable solution.
TYPES OF STRUCTURAL LOFT CONVERSIONS
Dormer loft conversion
Mansard loft conversion
Hip to Gable
Roof light conversion
Loft conversions are always a great plan when you're thinking of home improvement. Your budget, available area, size and location of your property are among the things that determine the type of loft conversion suitable for your home. The most common loft conversion roof types include the following:
This happens to be the most common type of conversion for most homes. A dormer can be built in almost any type of building. Most of the time, a dormer loft conversion doesn't require any planning permission, although there are situations where it is necessary. It is always advisable to consult with your local authorities to be sure.
The dormer conversion is constructed in a way that it projects from the plane of a sloping roof. It is built with vertical walls and a horizontal ceiling, providing a more spacious room for your house. For a cohesive look, the dormer should match the existing roof. Below are some of the common designs that you can choose from:
Flat roof dormer – provides more internal space compared to the other styles.
Pitched roof dormer – provides a substantial, more spacious room.
Hip to gable dormer – its an aesthetically pleasing option.
L shaped dormer
Rear dormer loft
Pros
They're a great way of adding value to your property.
A cost-effective way to maximise your place.
A practical way to extend your house.
Great way to utilise your congested attic space.
Floods room with plenty of natural lighting and ventilation thanks to the dormer windows.
Suitable for most styles of homes in the UK.
Cons
Not the most aesthetically appealing design although they provide the most in terms of additional space.
The mansard loft is most common in London and most urban areas, especially terraced houses. This type of conversion is constructed by raising your roof's sloping side to an almost vertical side. It is similar to the flat dormer since it has a flat roof, although the windows are housed in a smaller dormer.
Most individuals prefer the mansard loft conversion since it is aesthetically appealing and also provides maximum space. It also results in a change in the roof design of the house. You will need to acquire planning permission from your local authorities to have a mansard loft in most cases.
Pros
Creates maximum space for your existing property.
It's aesthetically pleasing.
Suitable for various types of homes.
It doesn't require much structural reinforcement.
It blends well with the existing structure.
Cons
Costly to construct compared to the other loft conversion designs – the loft conversions costs vary depending on the amount of work that is to be done.
Planning permission is necessary in most cases.
Construction time can be long since it needs a considerable amount of work.
With the hip to gable loft conversion, the existing roof's sloping side is changed to a flat gable end. It is a convenient way to increase the relatively small usable space in hipped roof houses. Although not a lot, the additional space is usually big enough for a play area, an office or a lounge.
A hip to gable conversion is suitable for any detached or semi-detached property, as well as bungalows and chalets. The duration taken to construct this type of conversion depends on the project's scale and the size of the team working on it. Multiple options available such as gable hip, hipped, half-hipped, dutch gable, cross hipped roof and hip to gable loft conversion.
Pros
Extra space can be used for a variety of purposes.
It's suitable for both detached and semi-detached properties.
It blends with the existing home, making it aesthetically pleasing.
Cons
You may need planning permission.
Hip to gable is more costly than dormer conversions.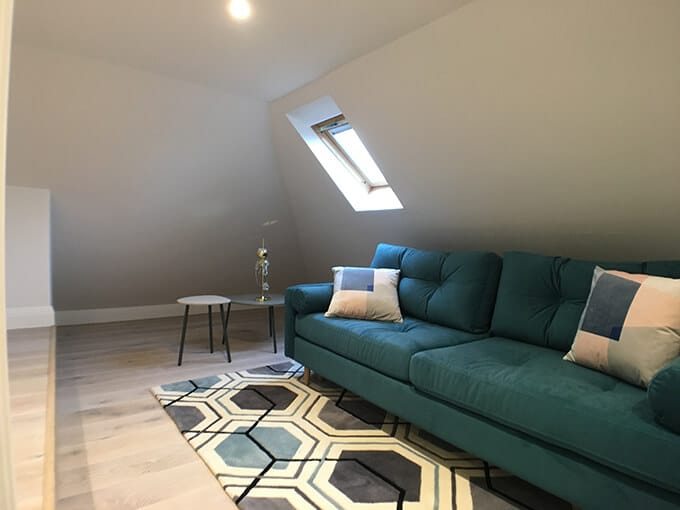 Velux extensions are the easiest type of conversion to build, and it also takes the shortest duration. Commonly known as roof light loft conversion, the design is relatively easy to install. Here the existing space is not altered or expanded in any way.
A window is added, and the floor is reinforced to create a comfortable living space. The roof might need minimum altercations for the Velux window to fit, making it relatively cheaper than the other loft conversion types.
Pros
Relatively cheaper than the other types of loft conversions.
Highly likely for it to be approved in conservation areas.
They take a shorter time to build since they require less work.
Cons
It doesn't result in maximum usable space like the other types of conversion.
There is limited head room ( head height ).
If the windows are at the front, it might require planning permission.
With the many types of loft conversion designs available, you might find it challenging when deciding the most suitable design for your home. We shall list down some of the essential factors you should consider when making a choice:
Budget
Roofing design
Whether your home is located in a conservation/designated area
Building regulations approval
The type of conversion you need
Available space
Choosing the right design and loft conversion specialist
Amount of lighting you want in your room
Different loft conversions have individual timescales involved. The duration taken to construct a loft convert majorly relies on the design and type of loft. There are also three important phases of work that play an important role in influencing the project duration. These are:
Design – the architect and project team, in general, have to survey the property and make sure that they come up with the design that is most appealing to you and suitable for your house. Once you agree on the design, it is now time for them to acquire the necessary consent from the local planning office and building control.
Planning – the actual duration it might take for planning to be granted depends on the local authority timescales. The actual length it might take can vary across the UK. However, it is always great to ensure that the planning is right the first time.
Building – once approval has been granted, a work schedule is now developed. The time taken to construct each loft design varies.
For instance:
A dormer loft conversion can take between 4 to 6 weeks depending on the size and roof requirements.
Mansard takes around 7 to 8 weeks since it requires the most work done, especially replacing the roof.
For a hip to gable, the timescale may be around 6 weeks.
A Velux may be completed within 4 weeks as it is one of the simplest loft conversions.
In most cases, planning permission is necessary where the conversion does not fall under permitted development. It is advisable to consult with your local authorities and make sure that your proposed project fully adheres to the permitted development specific conditions and limitations. Below are some circumstances where you will need planning permission:
If the property is situated in a conservation area or designated land.
If the extension is to be constructed in the front of the house instead of the rear.
When the volume of the new addition exceeds the limits of permitted development.
If the height of the conversion exceeds the height of the existing roof.
When you plan to use materials that do not match those of the existing house.
If the conversion includes windows overlooking neighbouring properties.
If there are bats in the building.
The points above highlight some of the circumstances where you will need planning permission for your conversion. Although there are occasions where you may not require planning permission, it is always good to confirm with your local authority to avoid any problems while the construction is underway.
We have looked at different types of loft conversion options that you might consider for your property and their advantages and disadvantages. The other thing is the different factors that might influence your decision when deciding on a suitable conversion. These are just some of the basic things you need to know if you're thinking of loft extension.
It is also important to note that building regulations approval is necessary for any types of loft extension to ensure that the structure is safe. Here at eLoft loft experts are ready to help with your lofts conversions and choose the most suitable style for your home. You will also be able to make the most of your underutilised roof space and add value to your property.
Loft