With loft conversions being common for most homes in the UK, Velux loft conversions happen to be one of the most popular options. Also known as Roof Light or Skylight, this is the most cost-effective choice. With our loft conversion services, you will be able to make the most of your unused roof space at an affordable cost.
For the Velux loft conversion, minimum altercations are made on the existing space. This is because it only involves installing large roof windows on either side of a sloping roof. It is good to make sure there is adequate head height before opting for Velux conversion. You do not want to be banging your head every time you stand.
There are several Velux loft conversion ideas that you can opt for. The type of roofing for your home also plays an important role in determining the suitable type of loft conversion. Some of the Velux loft conversion designs that you can settle for include the following:
Fixed Windows
Ventilating Windows
Escape Windows
Fixed window. With this type of window, the room is flooded with all the sought after natural light, and it also offers a great opportunity to enjoy the views outside. As the name suggests, the windows are fixed, meaning they cannot be opened.
Ventilating windows. This type of window allows for adequate ventilation and natural light into the room. They're suitable for any room, be it the kitchen, bedroom and so on. Depending on the height of the ceiling, they can be either manual or electric opening.
It is also important to note that the window needs to be installed with flashing kits to make sure it is waterproof. The type of roof shingles, window size, and design are few of the things that will type of flashing kits to be installed.
Escape window. This type of Velux window is easily 'thrown' open in case of any emergency. You might also need to have an emergency ladder on standby.
Some of the most common materials used for Velux windows are either plastic/acrylics or glass. Glass is considered the most durable material. It also happens to be more costly than plastic or acrylic windows. Although, if you're after quality and durability, then the cost shouldn't be a problem.
As much as the Velux loft conversion allows for adequate light into the room, it should have key properties to prevent the loft conversion from being too hot. Other Velux windows have a special UV coating that protects you against sun rays. They can also have blinds to control the amount of light getting in the room.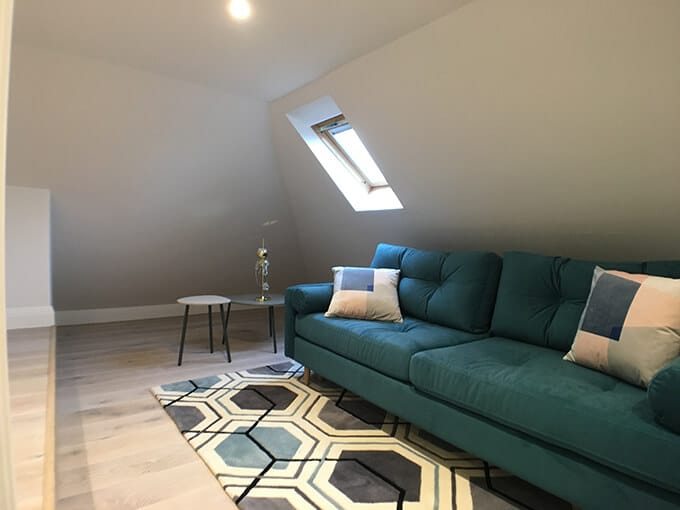 One of the things that make a Velux loft conversion such a common choice is the fact that in most cases there is no need for planning permission. Checking whether planning permission is needed is always important for the different types of loft conversion.
Your loft conversion builders should be able to ascertain whether you will need to have any planning permission. They should also be able to guide you through the whole process of applying for one. You should also ensure that the loft conversion company complies with the building regulations.
The exception for when you may need planning permission for your Velux loft conversion can happen if your home is located in a conservation area or if you live in a flat. That is why it's always important to consult with your local authority or your Velux extensions builder.
If you are looking for a cheap loft conversion, then consider a Velux loft conversion as one of your suitable choices. When comparing a Velux to dormer conversion cost, a dormer is less affordable as the amount of work required is a lot.
Considering the fact that there will be none to minimal alterations made on the existing space, Velux windows loft conversion tends to be quite a cost-effective option. On average, a Velux loft conversion cost can be as little as £30,000.
If you want to make the most of your existing space at a cheaper cost, then this is definitely what you need. Some of the things that can make Velux loft conversion cost vary include the following:
The size of the existing roof.
The number and type of Velux windows to be installed.
The amount of work to be done: if there are any altercations to be made.
As much as the various roof extension cost vary, at ELoft Conversions, we are able to build your Velux loft conversions without you needing to break the bank.
You can always reach out to us to get a free quote or talk to one of our professionals about your project. By doing this, you will be able to get the accurate estimated loft conversion price within your budget.
In most cases, the greatest determinant of how long a project will take is the amount of work to be carried out. For a Velux loft conversion, very little work is required; hence the duration is shorter.
A loft conversion Velux can take between one to two months to be completed. Compared to the duration of other types of loft conversions, the Velux loft conversion is shorter. The fact that planning permission isn't needed in most cases also contributes to the less time taken.
There won't be any time used following up on permission applications; hence work can commence as soon as everything is agreed on with your builder.
Discussed above are some of the most common questions asked when it comes to Velux loft conversion. From the different designs, timescale, to the cost, among other things. The above information on Velux loft conversions will be important in helping you know about your conversion.
If you are having a tough time deciding what you want, our team of professionals are always ready to help and guide you through. We will help you decide on the most suitable design for your home. With us, you will be able to get fully customised designs that suit your living space.
Loft